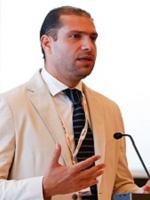 Ahmed El Hadidi
Chair, IOSH UAE, Regional H&S Manager
Crown Europe
Ahmed El Hadidi is a graduate member of IOSH. He was announced as the new chair of the organisation's UAE branch at its annual general meeting in Dubai in April 2015. He had previously been a member of the branch's executive committee.
He is an experienced industrial engineer and an MBA graduate with a passion for health and safety.

Over the past 15 years, Ahmed has worked across a wide variety of industries including the manufacturing of plastics, confectionary products and pharmaceuticals, before finally moving into the aluminium and steel packaging industry. It was following that move that he shifted gears and became involved in health and safety.

He is now Regional Health and Safety Manager for Crown Packaging. The role sees Ahmed look after 12 production facilities at sites in the Middle East, Turkey, Greece and Tunis to ensure the safe operation of the production plants while promoting a positive health and safety culture.