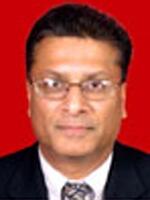 Dr. Clarence Rodrigues
Associate Professor of Mechanical Engineering, Acting HSE Advisor
Petroleum Institute
Clarence C. Rodrigues, Ph.D., PE, CSP, CPE, is currently the Manager for Health, Safety and Environment and is also an Associate Professor of Mechanical Engineering at the Petroleum Institute in Abu Dhabi, UAE. Before joining the Petroleum Institute, Dr. Rodrigues was a tenured full-professor in the college of aviation and was also the program chair for the BS in Safety degree at Embry-Riddle Aeronautical University (ERAU) in Daytona Beach, Florida. Before joining ERAU, Dr. Rodrigues was on the safetyfaculty at the Indiana University of Pennsylvania (IUP) and was also an OSHA consultant for the State of Pennsylvania. Prior to joining IUP, Dr. Rodrigues was a worldwide engineering manager at the Campbell Soup Company for seven years. While at Campbell Soup, he also held an adjunct associate professor's appointment at The University of Pennsylvania's systems engineering department. Dr. Rodrigues has consulted for industry and for government, has made several national and international presentations, and has authored or co-authored numerous technical publications, including a text book titled Commercial Aviation Safety. Dr. Rodrigues holds a Ph.D. in industrial engineering and a master's degree in civil engineering from Texas A&M University. He also has a bachelor's degree in civil engineering, and his master's degree is in environmental engineering from the Indian Institute of Technology (IIT), Bombay, India. Dr. Rodrigues' areas of teaching and research interests include Quantitative risk assessment, process and occupational safety, human factors and ergonomics, sustainability.