Conference Overview
Continuing our highly acclaimed annual HSE event series, 
the 3rd Annual Health, Safety & Security Forum 2017
 is being held on 8th – 9th October 2017 in Dubai, UAE. Focusing on the proposed regulations for Safe Public and Fair Judiciary under the UAE Vision 2021, this year's theme is 'Realising the UAE's Vision 2021 safety goals'.
The forum provides a platform to promote discussions on critical issues such as emergency preparedness and response, unforeseen hazards, legislation for occupational safety etc. through keynote presentations, interactive panel discussions and delegate Q&A sessions. The conference, now in its third year, promises to be a roaring success, providing attendees with a rich networking and learning experience.
To register for this unique event or to find out about speaking and sponsorship opportunities, please contact us
here
.
Mock Fire Evacuation Drill Video at the 2nd Annual Health, Safety & Security Forum 2016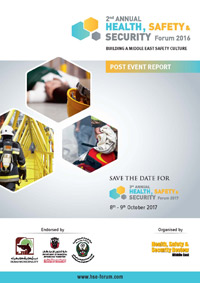 What people said
"The Forum was a extremely successful event as it included many essential topics regarding improving health, security, and fire safety issues. The Forum was attended by many experts and many important presentations were presented. The mock evacuation drill was the most essential session in the Forum as it was a learning experience and it showed many new information to all attendees on how people should act during an emergency event. I met many new experts at this Forum and I have learnt many new information from them regarding my work. Thank you very much for inviting us to attend this essential Forum and we would be very happy to attend the Forum again next year."
Fire Safety Manager & Fire Protection Branch Manager, Abu Dhabi Civil Defence
"The 2nd Annual Health, Safety & Security Forum was definitely a unique experience that gave opportunities to connect with a number of industry professionals and gain invaluable knowledge of the latest developments in the health and safety sector. It also gave us, at Leader Healthcare, an opportunity to showcase our contributions and innovations related to security and safety for both government and commercial use."
Leader HealthCare
"Evac + Chair International recently attended the second HSE Forum in Dubai, UAE. The Forum was unique as it involved both a Mock Evacuation Fire Drill and also Mock Court Trial of injured personnel. As the official Evacuation Partner we were involved both in the Evacuation Drill and also delivering a presentation on evacuation from buildings in general. Evac + Chair International also contributed on a lively discussion panel that was rewarding and interactive for the delegates. This unique event was very professionally organised with good time keeping and array of subjects that gave delegates an insight into how the region reacts in many incidents and scenarios."
Evac + Chair International

To Read More, Click here
Latest Industry News