ENOC reveals main EPC contractor for refinery expansion project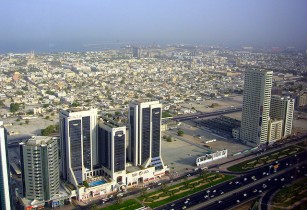 Emirates National Oil Company (ENOC) has announced plans to increase the capacity of its ENOC Processing Company (EPCL) Jebel Ali facility by 50 per cent
The expansion deal features three separate packages worth more than an estimated US$1bn. Commercial production is due to take place in Q4 of 2019.
The main package of the project will add a new Condensate processing train to the current facility, with its daily capacity reaching up to 210 barrels up from its existing current 140,000 barrels per day. According to ENOC, further processing units will also be added, such as a new LPG/Naphta hydrotreater, an isomerisation unit, kerosiene hydrotreater and a diesel hydrotreator.
Commenting on the project, his excellency Saeed Mohammed Al Tayer, ENOC's vice chairman, said, "As the UAE continues its journey as a regional powerhouse, meeting the growing energy demand tops the government's agenda. We continue to move forward to realise our wise leadership's vision in the establishment of a robust infrastructure to support the growth of the UAE economy which is based on the diversification of energy resources by increasing fuel production through the expansion of EPCL's refinery. This ambitious expansion project is one of the key building blocks in the energy infrastructure sector to meet future demands and supports our sustainable growth in line with Dubai
According to Enoc, the units at the facility wiill ensure that the refinery's fuels products, which include gasoline, jet fuel and diesel are capable of fulfilling increasing domestic fuel demand, as well as for export purposes.
His Excellency Saif Humaid Al Falasi, Group CEO of ENOC, also noted, "The UAE's energy demand is growing at about nine per cent a year. Since our establishment, we have grown into a responsible, profitable and sustainable organisation that has continuously met these needs. An emerging aviation sector and the evolving logistics needs of numerous businesses invoke a strategy that demands foresight. The refinery expansion is part of this strategy to develop enabling infrastructure that fuels the nation's growth."