Trelleborg introduces fire safety with rubber-based solutions at OTD 2017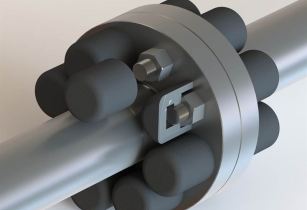 The advanced polymer solution provider Trelleborg has announced to present its range of passive fire protection solutions at Offshore Technology Days (OTD) 2017, in Stavanger, Norway
Located in Hall B on stand 2708, the company will showcase a number of passive fire protection solutions including Elastopipe, a flexible piping system, Vikodeck, a surface protection material and FireNut, a fire protection for bolted connections or flanges.
"All our fire protection solutions are manufactured using our Firestop technology and protect people, structures and equipment in the most severe fire scenarios," said Torbjorn Pettersen, sales manager for offshore operation at Trelleborg.
Pettersen explained, "As the offshore oil and gas industry continues to push the limits, improving fire safety is becoming an ever greater critical element, resulting in a growing need for higher performance solutions which are guaranteed to perform in extreme environments."
Elastopipe is a patented flexible piping system developed for transporting a variety of fluids and according to the company it is one of the first corrosion-free, explosion, impact and jet fire resistant flexible piping systems. The system uses synthetic rubber instead of traditional materials. Elastopipe has been tested and certified by DNV and approved by Lloyds, RMRS, ABS and the US Coast Guard.
Vikodeck has been designed to provide surface protection against blast, jet and pool fire in harsh environments. It can be tailored to withstand various chemical and mechanical conditions.
FireNut aims to provide protection of bolted connections or flanges on offshore installations. A rubber-based fire protection system, it focuses on protecting the nuts of a bolted connection or flange.
"In stark contrast to the traditional bulky metal boxes, this lightweight solution is customisable to accommodate almost any bolt size, is easy to install and extends the service life in the event of a fire, being resistant to both jet fire and pool fire," said the company.