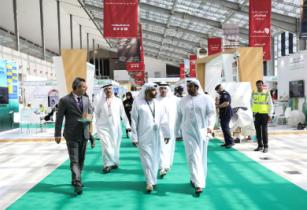 Abu Dhabi Ports, Fujairah Terminals and Khalifa Industrial Zone Abu Dhabi (KIZAD) have kicked off Health, Safety & Environment (HSE) Week 2018, which will run from 23-25 October 2018 at Abu Dhabi Cruise Terminal in Zayed Port
The event is being held in collaboration with Capital Health Screening Centre, a Mubadala Company (CHSC) and National Marine Dredging Company (NMDC).
In line with the Abu Dhabi Economic Vision 2030 to create a sustainable economy, the stakeholder event aims to raise local community awareness, encourage partner and customer engagement and promote knowledge sharing and a strong health, safety, and environment (HSE) culture amongst corporations in Abu Dhabi.
Commenting on the event, Mohamed Juma Al Shamisi, CEO of Abu Dhabi Ports, said, "At Abu Dhabi Ports, we recognise that to be a truly world-class organisation we must work hard to continually improve our health, safety and environmental performance, in collaboration with strong local advocates."
Under the theme of "Occupational Health & Hygiene, together for a bright future", the event is dedicated to employee wellbeing and productivity to help further enhance the working environment in the emirate for members of all communities.
The three days event involve 2,000 participants for research competition, innovation projects, medical screening, blood donation, flu vaccination, dental check-up, awareness lectures and presentations. In addition, a wide range of HSE suppliers will showcase audiogram, spirometry and other innovative mobile trucks for air quality monitoring and health screening.
Haitham Al Subaihi, acting CEO at Capital Health Screening Centre, remarked, "Capital Health Screening Centre is offering complementary medical screenings to as many as 2,000 participants at the event. As a part of one of the six Mubadala Healthcare assets that is committed to deliver sustainable healthcare solutions, Capital Health Screening Centre is proud to partner with Abu Dhabi Ports to help raise awareness of occupational illnesses within the industrial sector, to ensure that Abu Dhabi is and will continue to remain a healthy city in which to live and work for all its residents."
The event also welcomes representatives and exhibitors from local academic institutes such as Abu Dhabi University, Zayed University, Fatima Medical Science College, Khalifa University, NYUAD, Abu Dhabi Vocational and Training Institute (ADVETI), and Rawafed Private International School, with the aim to drive collaboration on sustainable thinking and innovation between academia and businesses.
Other exhibitors include LLH Hospital a unit of VPS Healthcare, Abu Dhabi ladies Club, Fitness First, Pink Caravan – Breast Cancer Awareness, Low Calories Nutrition, Al Rahma Association, Bynuna Gate – HSE supplier, Midas Safety and 3M.