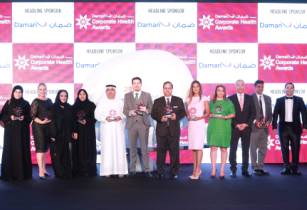 Employee welfare comes first for most UAE entities, but the Daman Corporate Health Awards 2018 recognised 10 companies as the best place to work
Michael Bitzer, CEO of National Health Insurance Company, Daman, said, "For the companies and organisation we have recognised this year, employees come first-their wellbeing, productivity and happiness."
"In honouring their workplace wellness initiatives, we hope to encourage others to follow their lead and realise that achieving business success begins with taking care of a company's most important asset-its employees," he added.
Canon Middle East has won the Workplace of the Year award for its initiatives to improve employee comfort and productivity as well as creativity.
Ambulatory Health Services- Seha received the Daman Award for the Corporate Health and Wellness Initiative for its pioneering Inta Gadha programme, the biggest health competition in Abu Dhabi.
The aim of the project was to provide creative and innovative solutions to fight the increasing rates of obesity in the UAE. The initiative targeted 30 government entities with the participation of more than 1200 people supervised by a team of 12 dieticians.
By visiting government employees at their workplaces, Inta Gadha enabled contestants to participate without having to take time off work and gave non-Thiqa insurance cardholders free access to dietician services.
Among the success metrics achieved by the competition that impressed the judges are the 1,700 kilos dropped by participants during the duration of the programme. About 94 per cent of competitors responding to the closing survey stated that the competition improved their lives, while around 91 per cent said that they are either very satisfied or satisfied with the competition.
Majid Al Futtaim-Retail scooped the Daman Award for Corporate Health and Wellness Award for Organisation, while Dubai Islamic Bank won the Daman Award for Biggest Impact.
The American Center for Psychiatry and Neurology received two awards in the "Communications Campaign of the Year" and "Corporate Wellness Partner of the Year" categories.
Other winners include telecoms giant du, which received the Health and Safety Initiative of the Year award; as well as Mashreq, which won the CSR Employee Engagement of the Year trophy.
The Corporate Happiness Award for the Private Sector was given to Tristar Transport; while the Public Sector winner was the Department of Culture and Tourism Abu Dhabi, whose Lead for People Performance and Projects, Tanya Lush, was recognised as the Corporate Wellness Leader of the Year.
"In choosing this year's winners, we looked at how corporate and individual efforts are empowering employees through creative and high-impact programmes that boost employee well-being, knowing that a happy, inspired and well-developed workforce ultimately drive long-term competitiveness and business success," said John Emmerson, events director, Meed, organisers of Daman Corporate Health Awards.