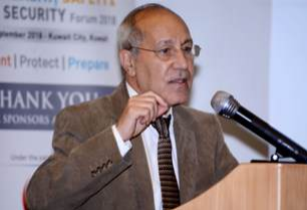 More than 100 delegates attended the inaugural Kuwait, Health, Safety & Security Forum, held on 24-25 September at the J.W. Marriott, Kuwait City under the patronage of His Excellency Dr Basel Hamoud Hamad Al-Sabah, Minister of Health Kuwait
The event, researched and developed by Health, Safety & Security Review Middle East Magazine, was endorsed by the Drpartment of Occupational Health, Ministry of Health Kuwait, Kuwait Society of Occupational and Environmental Medicine; and New Kuwait. It was supported by the American Society of Safety Professionals (ASSP), Kuwait International Powered Access Federation (IPAF) and the World Safety Council.
Senior officials from the Ministry of Health, Kuwait, Ministry of Interior, Kuwait, Kuwait Oil Company and other distinguished guests and VIPs were present at the opening of the Forum. Dr. Ghada Al Khalifah - Director, Undersecretary Office, Ministry of Health, Kuwait was in attendance throughout the event and expressed her satisfaction.
Bringing together HSE and security professionals, policy makers, regulators and solution providers, the Forum provided a platform for discussion and debate on critical issues and industry challenges, as well as updates on the latest market and regulatory developments in Kuwait.
Occupational health and worker wellbeing received a strong focus. Giving the keynote address on wellbeing in workplaces via occupational health services, Prof. Mohamed Kamel from the Occupational Health Department, Ministry of Health, Kuwait commented,
"A healthy workplace is where workers and managers collaborate to use a continual improvement process to protect and promote the health, safety and well-being of all workers and the sustainability of the workplace…a healthy workforce is a prerequisite for sustainable development and social wellbeing and a major social determinant of health and equity." He gave some tips on achieving worker health and wellbeing and concluded, "You cannot be a safe worker if you are not a healthy worker."
Dr Sajed Al Abdali, medical department leader, EQUATE Petrochemical Company outlined the benefits of happiness at work, which include better job performance, increased job satisfaction and morale and more interaction between teams.
Giving his own recipe for happiness he said, "Happiness is the state of positive activity." Companies with happy employees outperform the competition by 20 per cent, procure 37 per cent greater sales and are 12 per cent more productive, he noted.
"A strong company wellness programme that is implemented with the holistic needs of people in mind, has the power to make employees happier," he added. Company wellness programmes improve employee health behaviours, reduce elevated health risks and reduce healthcare costs, he said, following which he outlined some steps to build corporate wellness programmes.
Other speakers included Prof Harri Vainio, Dean, Faculty of Public Health, Kuwait University; Nasser Al Buhairi, Chief Security Officer, Kuwait Oil Company; Dr Musaed Al Najjar, International Police Science Association; Eng. Hassan Alfadhli, Ministry of Interior – Environmental Police Department, Kuwait; Jason Woods - Middle East Representative for IPAF; and Gary Hicks, General Manager, EVAC+CHAIR.
Over the two days delegates were treated to thought-provoking presentations and participated in lively debates on topics including working at height, implementing safety standards, physical trauma versus psychological trauma, staying calm in a crisis, and achieving process safety excellence.
Delegates commended the high standards of the presentations and panel discussions as well as the "outstanding" networking opportunities.
"It was a great information platform, the event was well managed and the selection of topics was good," commented one delegate.
"It was a great experience… a lot of new information learned," said another.
"It was a pleasure to participate in such a great event. Look forward to more!" was another comment, echoed by many others.
Plans are already underway for a follow-up event in 2019.