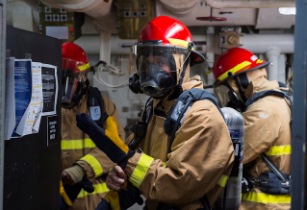 The Middle East market for firefighting systems, fire detection and alarm systems, and emergency exit and lighting will be worth US$3bn by 2024, representing growth of nearly eight per cent, according to a November 2018 report by analysts 6Wresearch
The Middle East's US$1.9bn fire safety systems and equipment market will see solid growth over the next six years, with new government regulations around life safety and fire protection along with large-scale infrastructure investment among the key market drivers.
The report stated that the regional market declined slightly in 2014- 2016, but since 2017 demand has recovered, supported by the recovery of oil prices and government diversification initiatives to revive the construction sector.
In addition, revised fire and life safety codes, as introduced by the UAE Civil Defense in 2016, have supported the growth of passive fire protection products in new buildings and infrastructure and have given further impetus to the retrofit segment, where newer systems are being used.
6Wresearch's report was published ahead of the Intersec exhibition, trade fair for security, safety, and fire protection, taking place from 20-22 January 2019 at the Dubai International Convention and Exhibition Centre.
Fire and Rescue is the second largest of seven show sections at the annual three-day event, where more than 1,300 exhibitors from 59 countries are set to take part in the show's 21st edition early next year.
More than 350 of them will be in the Fire and Rescue section, including the biggest names in the global fire and life safety industry such as NAFFCO and Concorde Corodex Group, Honeywell from the USA, Japanese-headquartered Hochiki, Drager from Germany, and Turkish fire truck manufacturer, Volkan.
Eaton Corporation is another headline exhibitor in the Fire and Rescue section and is one of many companies at Intersec 2019 positive about the current and future fire safety trends in the regional market.
Frank Ackland, Eaton's Middle East managing director said the regulations set out by the UAE Civil Defence, for example, offer a much higher standard of regulation that has ever been seen before.
"All those involved in the construction process are placing greater importance of meeting, and exceeding, the standards set out. That doesn't mean there isn't more work to be done, and this is where we see a significant investment in retrofitting also taking place in the UAE, in order to make older buildings safer and in line with current regulations," Ackland added.
Concorde Corodex Group is another regular Intersec exhibitor, and it will showcase in 2019 its UAE-made emergency mobile solutions, such as fire trucks, ambulances, special vehicles, and hydraulic platforms, along with its static fire equipment, including pumps, cabinet extinguishers and fixed suppression equipment.