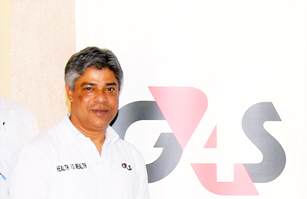 Atanu Sanyal, managing director of G4S Kuwait, sees strong prospects for the company's security business in Kuwait. He spoke to Health, Safety & Security Review Middle East at the Kuwait Health, Safety & Security Forum, where the company was an exhibitor
G4S Kuwait (Al Mulla Security Services Co. & Group 4 S Security Solutions Co.), an ISO 9001/2015 company, is the outcome of a dynamic partnership between the well-established business conglomerate The Al Mulla Group, and G4S plc UK. The deliverable security product, solutions and related services are a potent blend of the local strengths of The Al Mulla Group, with the internationally acquired skills and expertise of G4S, the world's leading integrated security company. The company has operated in the Kuwait market since 1980 and provides a wide range of quality services including Manned Security Services, Cash Management and Solutions, Electronic Security Systems, Facility Services and Risk/ Security Consultancy Services.
"We have around 2,600 employees in Kuwait and the business is large and complex," explained Sanyal. "We have worked closely with different Government, financial and corporate bodies for their security requirements and deliver the solutions according to the needs. Our deliverable services can fit to any customers, be it a single window retail shop or a large critical infrastructure project. G4S Kuwait is currently running some critical projects with Ports and Airports, Petroleum, Petrochemicals and Refinery segments. We operate in many places where HSE plays a central role, making sure employees are safe."
"On Health and Safety, our goal is 'Zero harm'. And we follow this in every country in which we operate. We are passionate about safety, security and service excellence. This means we will prioritise safety management to protect the health and well-being of our colleagues and those around us. In Kuwait, we have a solid Health and Safety team apart from HR regular involvement, that looks carefully into every project."
Sanyal also highlighted the high standards of the company's security guard operation, where personnel benefit from access to welfare officers and HSE officers as well as excellent transportation and accommodation facilities.
The company is focusing increasingly on the design of complete security solutions rather than selling individual products and services through working closely with customers to tailor solutions to their requirements.
"This is what we will be focusing on in the coming years," said Sanyal. "By giving a complete security solution to the customer, we understand the requirements of the customer from every angle, and with our recommendation we not only cover all different aspects of the security requirement but are also able to provide a solution which offers long term benefits and cost savings for the customer. We can do complete security assessments and look at ways of optimising security solutions."
"Kuwait is a big market with a business-friendly environment and we are involved in many consultancy, industrial and government projects," commented Sanyal. "We are very optimistic looking ahead."