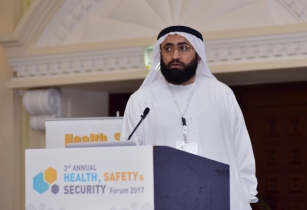 The 4th Annual Health, Safety & Security Forum takes place in Dubai from 27-28 November 2018 under the patronage of the UAE Ministry of Health and Prevention and with the support of ADNOC, Emirates Authority for Standardisation & Metrology, Emirates National Accreditation System and the World Safety Council
The latest in the highly acclaimed event series, researched and developed by Health, Safety & Security Review Middle East, follows hot on the heels of the first and tremendously successful Kuwait Health, Safety & Security Forum, which took place in Kuwait from 24-25 September.
Health, safety and security are receiving an increased focus in the UAE, in response to rapidly evolving security threats worldwide, as well as continued growth in the country's commercial property, financial and tourism sectors. Fire protection also has huge growth potential, with the Middle East fire security market estimated to grow annually by 12.5 per cent from 2012 to 2020, making it one of the largest in the world.
The 4th Annual Health, Safety & Security Forum will bring together HSE practitioners, government regulators,policymakerss and solutions providers to share insights and experiences on critical health and safety issues. It will highlight best practices, strategies, process improvements and technology advances for the enhancement of HSE performance in the UAE, as well as endeavouring to align world class principles with local industry requirements.
Some of the major themes this year include occupational health in the era of big data; preventing accidents caused by falling froma height; crafting a behavioural change strategy; creating a resilient and productive workforce by investing in employee health; and managing security risks in the oil and gas industry.
Returning by popular demand is Raed Al Marzouqi, head of section, occupational Health and Safety, Dubai Municipality, who will speak on preventing accidents caused by falling from height, while Jorge Manuel Miranda Dias, professor, Electrical and Computer, Engineering Department, Khalifa University Abu Dhabi will discuss how to detect abnormal previous and human crowd modelling using video.
Farah al-Ansari, head – Airport Security, Dubai Airports will discuss embedding a world class security culture whilst ensuring stakeholder engagement. Also speaking will be Dr Mohammed Aref, OSH expert, Ministry of Human Resources & Emiratisation.
With numerous studies underlining the business benefits of investing in health and safety, Dr Ola Mira, head of Environment & Occupational Health & Safety, Ministry of Health, UAE will discuss the benefits of investing in employee health to create a productive and resilient workforce.
Following their very well-received presentations at the Kuwait Health, Safety & Security Forum, Dr Sajed Al-Abdali, medical department leader, Equate Petrochemical Company, will share his thoughts on corporate wellness and happiness programmes, and Jason Woods, Middle East and India Representative IPAF will address the topic of working at height.
A panel comprising Dr Rebab Al Ameri, director – national Accreditation System, Emirates Authority for Standardization & Metrology; Dr Ola Mira, and a senior representative from ADNOC will discuss how to achieve 'zero incidents' in onshore and offshore operations.
Harnessing technology will feature strongly at this year's event. The role of artificial intelligence and robots will be discussed, along with leveraging data technologies and analytics to improve HSE performance. The use of UAVS to inspect hazardous locations, VR as a learning tool and the effective use of wearable technology to prevent accidents will also come under the spotlight.
A highlight of the event will be a mock evacuation fire drill to prepare for emergencies, following its successful introduction at previous Forums. Other unique features will be a workshop presented by the Ministry of Health, and an innovation showcase, featuring the latest products and technology.
The 4th Annual Health, Safety & Security Forum will once again provide a valuable opportunity to obtain an update about the latest HSE developments and regulations in the region, learn about the strategies, technological advancements and best practices for the enhancement of HSE performance, and meet face to face with leading decision-makers from industry and government.
A representative from ATG Gloves, which sponsored last year's event, commented, "I've been attending this forum for the past three years and it's been very fruitful for us, because we meet new people and catch up with industry connections under one roof. This forum has always been a great knowledge-sharing platform."