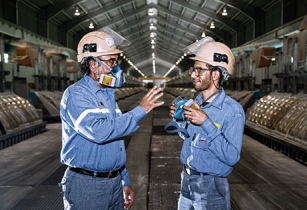 Aluminium Bahrain (Alba), one of the world's leading aluminium smelters in safety and health, has announced the safety milestone of 30mn working-hours without Lost Time Injury (LTI) by its Line 6 smelter
A ceremony to mark this milestone was held on 10 March 2019.
It was attended by Alba's Deputy Chief Executive Officer Ali al Baqali, Chief Marketing Officer Khalid Latif, Chief Power Officer Amin Sultan, Director Line 6 Smelter Project and Engineering Shawqi Al Hashimi and Director Safety, Health and Environment Mohamed Khalil, Line 6 Smelter Project team along with other contractor teams.
Commenting on this occasion, the chairman of Alba's Board of Directors, Shaikh Daij Bin Salman Bin Daij Al Khalifa, said, "Alba believes in 'walking the talk' on matters in relation to Safety, Health and Environment."
This achievement underlines Alba's strong commitment to safety and the extreme ownership of our safety by both, our employees and contractors. I applaud everyone for their contribution in achieving this milestone as we continue to ramp-up Line 6 safely and on time," he added.
Alba is one of the largest and modern aluminium smelters in the world. Established in 1971 as a 120,000 tonnes per annum smelter, Alba produces more than 971,000MT per annum of the highest grade aluminium, with products including standard and T-ingots, extrusion billets, rolling slab, properzi ingots and molten aluminium.