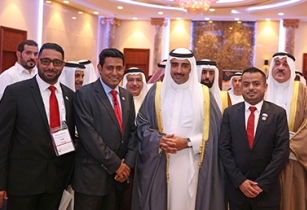 Aluminum Bahrain (Alba), one of the world's leading safety and health aluminium smelters, endorsed the third Gulf Safety Forum held at the Diplomat Radisson Blu Hotel, Residence and Spa on 25-26 March 2019
Organised by Euro Petroleum Consultants with the support of the National Oil & Gas Authority (NOGA), the Gulf Safety Forum 2019 was held under the patronage of Shaikh Mohammed bin Khalifa Al Khalifa, Minister of Oil, Bahrain.
Alba, along with other management members, was represented at the forum by its Chief Operations Officer Abdulla Habib and Security, Health and Environment Manager Nezar Hameed Ali. Abdulla Habib presented Alba's safety transformation and culture as a keynote speaker at the forum.
Commenting on this occasion, Alba's CEO Tim Murray said, "Alba has seen a major change over the recent years in the mindset of its employees towards safety. Introducing safety principles and campaigns along with taking extreme ownership in safety have yielded excellent results in both, safety and production."
"We have also made good progress in successfully starting-up Line 6 with zero lost time injuries. However, we must not get into a comfort zone and continue to work towards keeping our safety beliefs and staying safe at all times," he added.
The two-day Gulf Safety Forum brings together vital decision-makers from end-user organisations, technology developers, service and equipment providers on the latest tools and techniques that will drive us to higher levels of operational excellence improvements and safety.