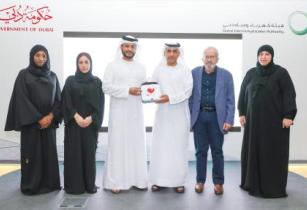 As part of its initiative to partner with public and private sector organisations to save patients suffering from cardiac arrest, Dubai Electricity and Water Authority (DEWA) has received a defibrillator device from Dubai Corporation for Ambulance Services (DCAS)
This supports DEWA's strategy to provide a safe and healthy environment for its employees and customers.
Saeed Mohammed Al Tayer, managing director and CEO of DEWA, commended the initiative of Dubai Corporation for Ambulance Service, which helps save heart patients in critical condition.
Al Tayer expressed appreciation to the company for presenting the defibrillator device, emphasising DEWA's commitment to providing a healthy and safe environment for all employees and customers.
He noted that DEWA places safety and occupational health at the forefront of its priorities and is keen to keep up with developments related to these areas, given the importance of their vital role in protecting lives and property as well as providing a happy work environment.
Yousif Ibrahim Al Akraf, executive vice-president of business support and human resources at DEWA, noted that DEWA, in cooperation with Dubai Corporation for Ambulance Services, provided a number of its employees with the necessary training on the defibrillator device to qualify them for rapid intervention in emergency situations until the arrival of the ambulance.
The trained employees were registered as official volunteers in first aid, enabling them to provide their services to residents anywhere in the emirate.