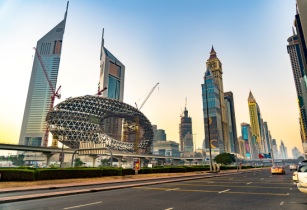 Sherwin-Williams, a manufacturer of paint and coating, has announced that it has been chosen to provide its fire protection technology for the iconic structure of Dubai's Museum of the Future
The challenge for the fire protection experts from the company was the museum's design, which is a joint-free assembly of 890 stainless steel and fibreglass fused panels that were fabricated using methods seen in the aviation industry.
According to the company statement, Sherwin-Williams used the Phoenix 370-120H water-based intumescent coating, which has a fire rating of 120-minutes.
Roger Williams, market director-FIRETEX, EMEAI & APAC at Sherwin-Williams Protective & Marine, said, "For specifiers, architects, developers and applicators, this is game-changing. Our comprehensive range of products and the substantial advances we have made in intumescent coating technology are delivering significant protection and operational benefits and options to our customers."
"Having strengthened the Sherwin-Williams network across the Middle East and Asia Pacific through last year's acquisition of Phoenix, we are able to leverage our world-class technical expertise and global presence to offer more bespoke solutions to these regions than ever before," he added.
Since Sherwin-Williams acquired Phoenix Fire Protection Group a year ago, its offices in Dubai and Hong Kong have been fully integrated into the organisation to offer the full range of products including corrosion protection coatings, tank linings, resin flooring, pipeline solutions and the FIRETEX range of passive fire protection intumescent coatings.
Sherwin-Williams fire protection coatings also come with software support including Fire Design Estimator (FDE) 2.0 that enables accurate calculation of coating properties for complex projects.