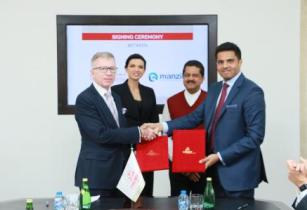 As part of its efforts to further extend superior home health services in the northern emirates, Manzil Healthcare Services, one of the leading home health and disease management companies in the UAE, has announced collaboration with Thumbay Hospital Group
Manzil Healthcare Services aims to provide a number of home health services for Thumbay Hospital patients, which include post-hospital discharge care, paediatric care and senior care, physiotherapy, mother and baby services, wound care, ventilated care and other specialised home health services.
Dr Sarper Tanli, group CEO of Manzil Healthcare Services, said, "A professional home-based medical care is the need of the hour, especially when the demand for home health services has increased by more than 20 per cent as compared to 2017-18."
Speaking about the collaboration, Akbar Moideen, vice-president for healthcare division at Thumbay Group, said, "The diversity in services and the quality of care offered by Manzil addresses the evolving medical needs and preferences of the society. We believe that continuity of care is important in delivering healthcare."
The collaboration is also expected to add strength to the clinical expertise of Manzil Healthcare Services giving them access to Thumbay Hospital Group's team of medical experts and doctors across specialities, who will be extending their care and consultations to Manzil.