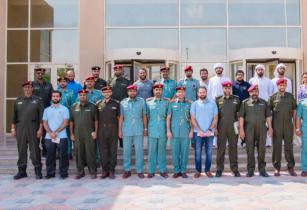 UL, a safety science company, hosted a training session for UAE Civil Defence inspection teams and briefed them on international codes and standards requirements for the design, installation, testing, inspection and maintenance of fire pumps
The event, which took place at the Civil Defence Academy in Abu Dhabi, saw officials representing Civil Defence departments from each emirate carry out detailed inspections and testing of a wide range of fire pumps and related equipment.
During the training programme, experts from UL held detailed workshops to advise officials on how to spot counterfeit equipment and the importance of brand protection.
UL's team, which included experienced fire safety experts Ghaith Bakir, Sheeba Sivaraj, Jaganathan Lakshmanan, and Mariusz Pyrcik, discussed the dangers posed to both members of the public and fire fire-fighters by the improper use and installation of fake equipment.
They explained the importance of rigorous checks and the certification of all fire-safety products in residential and commercial buildings.
Among the issues raised during the training programme were the latest advances in fire-safety systems, techniques and technologies for use in homes and businesses.
Hamid Syed, vice-president and general manager for UL in the Middle East, said, "The two-day fire-safety and fire-pump training programme was an opportunity for UL's team of highly trained experts to meet with Civil Defence teams and senior officers.
"This event helped to bring those working on the front line of fire-safety and protection up to date with the latest developments, techniques and technologies currently available. It puts the UAE at the forefront of fire safety and prevention," he added.