Dubai Civil Defence and Huawei collaborate for Smart Dubai 2021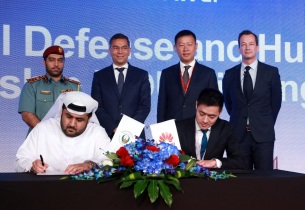 MoU kicks off strategic Smart City collaboration as Dubai Civil Defence turns to innovation to ensure Dubai is the safest, smartest and happiest city in the world
Dubai Civil Defence and Huawei have announced a historic MoU to collaborate on a number of ICT initiatives that will lead to the creation of a next-generation, Smart City infrastructure for the safety, security and happiness of Dubai's inhabitants. The MoU was signed during Huawei's Global Safe City Summit, held in Dubai on 26 - 27 April, 2017.
Huawei will work with Dubai Civil Defence to develop solutions for a next-generation Smart City ICT infrastructure that leverages cloud computing and cloud data centers, software-defined networking (SDN), big data, business continuity and disaster recovery (BCDR), unified communications, intelligent video surveillance and other smart city technologies.
Under the new Smart Dubai 2021 initiative, Dubai inhabitants will be able to access hundreds of Dubai government services through a new portal, paving the way for a 100 percent digital future, with Dubai government going completely paperless in its transactions by 2021.
"As per the new Smart Dubai 2021 initiative announced by His Highness Skeikh Hamdan Bin Mohammad Bin Rashid Al Maktoum, Crown Prince of Dubai, Dubai Civil Defence is collaborating with Huawei to assess its current Smart City readiness and create a roadmap for accelerating its ICT development to meet the objectives of the Smart Dubai 2021 initiative," said Colonel Expert Ali Hassan AlMutawa, Assistant General Manager for Smart Services, Dubai Civil Defence.
"Huawei is proud to build on its ongoing commitment to Dubai government through this MoU with Dubai Civil Defence, which will see both parties collaboratively develop safe and smart city solutions that leverage Huawei's global expertise in smart city deployments," said Alaa ElShimy, Managing Director and Vice President, Huawei Enterprise Business, Middle East. "Smart Dubai 2021 initiative sets a powerful precedent for other governments around the world to follow, and clearly demonstrates the broad vision of Dubai's leadership for the improvement of the quality of life for its people and humanity as a whole."
Dubai Civil Defence is turning to innovation for the development of its e-Services which provides online service access to vendors, contractors and business partners to support their efficient operations and provide them with the resources needed to align with Dubai's Fire and Life Safety Code of Practice.
This year's Huawei's Global Safe City Summit theme, 'Leading new ICT, The Road to Collaborative Public Safety', highlights the importance of collaboration in developing safe city technologies that meet the needs of the numerous stakeholders involved, allowing them to provide a more efficient, coordinated response effort through an open, accessible ICT ecosystem.