Honeywell introduces software development kit for IIoT connectivity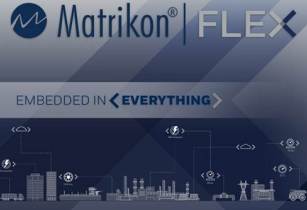 Honeywell Process Solutions have announced the first robust, fully scalable software toolkit that simplifies the interconnection of industrial software systems, enabling them to communicate with each other regardless of platform, operating system or size
The Matrikon® FLEX OPC Unified Architecture (OPC UA) Software Development Kit (SDK) is ideal for applications where minimal memory and processing resources are common.
Intended for use by discrete and process industry manufacturers, commercial customers, and automation original equipment manufacturers (OEMs), Matrikon FLEX is the first high-performance developer toolkit that quickly and easily enables any application, regardless of size, with OPC UA. It is the only SDK that meets the entire scope of market requirements – from small, embedded chips to enterprise servers. It will be a key component of Honeywell's Connected Plant.
"Honeywell Connected Plant is our holistic approach to anticipating and meeting the needs of customers by leveraging the power of the IIoT," said Shree Dandekar, vice president and general manager, Honeywell Connected Plant. "Within this environment, OPC UA plays a key role in enabling outcome-based business solutions. Our introduction of Matrikon FLEX underscores the importance of this technology."
Growing adoption of the Industrial Internet of Things (IIoT) and Industrie 4.0 is driving requirements for open and secure connectivity between devices (e.g., machine-to-machine or M2M) and edge-to-cloud solutions. Since OPC UA serves as a key data connectivity standard, vendors are seeking to enable their new and existing products with this technology to compete in the IIoT/Industrie 4.0 landscape.
According to Arun Ananthampalayam, Honeywell Connected Plant senior product marketing manager, the new Matrikon FLEX SDK delivers a "one-stop-shop" client and server solution for industrial organizations with diverse connectivity needs.
"Matrikon FLEX incorporates embedded-first principles, which makes the toolkit smaller and more suitable for use in resource-constrained applications and then building a highly scalable architecture," Ananthampalayam said. "This SDK has the industry's lowest memory requirement, and as such, operates efficiently so there are sufficient CPU resources for correct device functionality."
With its "server/client-in-a-box" design, Matrikon FLEX provides a fast, seamless method of implementing optimized, highly reliable OPC UA products without requiring development personnel to be OPC UA experts. Unlike vendors requiring a separate OPC UA toolkit when implementing products on different platforms, Honeywell offers the only toolkit that developers need to use, maintain and update all of their products. It is an efficient and cost-effective answer to deploying IIoT connectivity across a product portfolio – and ultimately taking products to market sooner.
Matrikon FLEX also employs a robust and reliable design to maximize product uptime. This approach allows OPC UA to be implemented in products with minimal computing resources. The toolkit provides reliable, pool-based memory management and runs on virtually any system: from resource-constrained embedded platforms