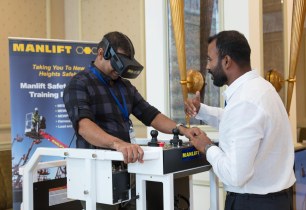 More than 100 leading health and safety practitioners, government representatives, regulators and solutions providers are set to convene at the Habtoor Grand Resort, Autograph Collection Dubai for the Dubai Health, Safety & Environment Forum 2019, which takes place from 24-25 November
The event will provide a platform for the sharing of ideas and expertise on critical issues across the spectrum of health and prevention, safety, risk management and environment. It takes place at a time when the business benefits of promoting worker safety and wellbeing are increasingly recognised, and when safety and sustainability issues have come to the fore in the run up to Expo2020.
Researched and developed by Health, Safety & Security Review Middle East magazine, the fifth edition in the highly acclaimed event series takes place with sponsors, partners and supporters including VIN Technology, Lloyds Register, Ansell, JLG, Universal Site Monitoring, Board of Certified Safety Professionals, IPAF, Clyde & Co, ARASCA, A-SAFE, Ideagen, Occupational Safety & Health Association and the VR/AR Association MENA Chapter.
The Forum will present the latest innovations and best practices to help businesses address their health and safety challenges. Sharing their insights and experiences is a stellar line-up of speakers, including Dr.Maisoon Ali Alshaali, Head of Environmental Section, UAE Ministry of Health & Prevention; Salman Dawood Abdulla, Executive Vice President – HSSEQ, Emirates Global Aluminium; Faaeza Al Katheeri, Geoscience Manager ADNOC - Al Dhafra Petroleum; Dr. Mohammed Aref, QHSE Expert, Ministry of Human Resources & Emiratisation; Dr.Taufiq Omeish, Senior Manager HSE, Dubai Electricity & Water Authority; and Saleh Nuaimi, Head of Safety, National Emergency & Crisis Management Authority (NCEMA), UAE.
Over the two days of the Forum a wide range of topics will be explored, from sustainable health and prevention, to effective safety leadership, human factors vs process safety, ROI of HSE in the business world, the effects of greenhouse gases on health and the environment, and driver safety. The event will also feature a mock criminal investigation process led by Clyde & Co.
As Fourth Industrial Revolution technologies extend their impact in all areas of life, this year's Forum will witness a sharpening focus on harnessing the potential of technologies such as AI, machine learning, data analytics, IoT and cloud computing to transform worker welfare and safety.
The Forum will include presentations on 'Using Industry 4.0 and the Internet of Things to save lives' and 'Changing the construction industry safety mindset in the Industry 4.0 era.' While a session on 'OHS in a digital age' will cover the mitigation of work risks using AI; health and safety training innovation through the lens of virtual reality; the monitoring of potentially hazardous environments with IoT; and the impact of digital transformation on the workplace.
"Immersive learning unfolds a new era for health and safety training where the level of simulations is customisable to the learner's needs and can range from tuition to mass trauma scenarios," commented Dr. Sana Farid, General Surgeon, X-Reality & AI Strategist, Co-President, VRAR Association MENA, who will address this subject at the Forum. "Properly implemented, VR simulation training will serve the purpose to equip individuals, teams, and systems with the right skills, and enable cost-effective accelerated development of expertise in a risk-free environment, bridging the gap between classroom training and real-life on-site experiences."
"Genetic engineering, Big Data, Internet of Things, remote sensing, virtual reality, blockchain-based networks, these are some of the technologies which define the Fourth Industrial Revolution," said Dr. Vinod Kumar Shukla, Associate Professor, Amity University, Dubai. "Examples include 3D printing in drug designing, robotics for very precise medical surgery and unmanned technologies, with drones being very successful. The adoption of these technologies in the workplace can help to build a sustainable framework for Total Worker Health. With the help of these technologies in surveillance, risk assessment and control, measures can be enhanced further, boosting relations between employer and employee. The effectiveness of the employee can be improved by implementing the new strategies of Industry 4.0."
Soumen Chakraborthy, event producer, Dubai HSE Forum 2019 commented, "While the UAE's vision and ambition is showcased in world‐class events such as Expo2020, there is a need to significantly strengthen the workforce by providing appropriate training in issues related to occupational health, safety and environment. The Dubai Health, Safety and Environment Forum is the perfect platform for safety professionals to explore how new technology such as AI and IoT is transforming their profession. We look forward to delivering an informative, enriching and vibrant fifth edition of the Dubai HSE Forum."