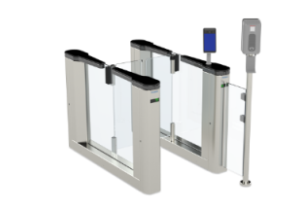 Swedish provider of smart access control solutions Gunnebo has launched infection control solutions that can help stop the spread of COVID-19
The family of access control solutions supports a smooth return to a safe working environment by automating infection prevention through contactless processes, maximising social distancing, and enforcing body temperature and personal protective equipment regimes.
The H-Sense range offers three levels of protection:
Body temperature detection: H-Sense T's seven-inch display pod seamlessly integrated on the turnstile, combines image analytics and thermal detection to deliver high precision, contactless body temperature detection with a measuring range from 30 - 45°C and a precision of ± 0.3°C.
Hygienic mask detection: A camera integrated into the gate, backed up by image analytics, recognises if the visitor is wearing a hygiene mask or not.
An automatic sanitiser gel dispenser delivers a dose of hand sanitiser contactless and prevents entry unless the sanitiser has been administered.
Robert Hermans, senior vice-president Entrance Control, Gunnebo, said, "H-Sense range provides efficient and user-friendly infection control processes linked to the right to access, ensuring that protective measures are properly and safely enforced."