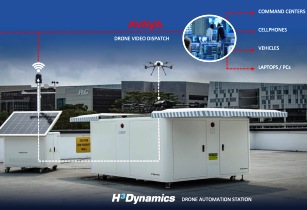 H3 Dynamics has partnered with Avaya Holdings Corp to deliver a suite of aerial video and real-time video analytics solutions to the government and emergency responders across the Middle East and Africa (MEA)
According to the Singapore-based drone technology company, H3 Dynamics' Dronebox base station systems are field robots managing their drone operations.
They can be stationed at different locations and can deploy various camera drones at a minute's notice, responding autonomously to incident triggers within existing sensor or camera networks. Using Avaya IXTM Workplace, a unified communications solution for calling, messaging, conferencing and collaboration, H3 Dynamics' drone stations can feed live aerial drone video footage from different locations to decision-makers in command centres.
Aerial video streams can also be fed through to multiple locations and devices via secure video conferencing. Emergency and non-emergency contact centres running Avaya IXTM Contact Centre solutions will also be able to remotely deploy and manage drones in emergency scenarios and be supported by a real-time aerial video stream of events taking place in such scenarios.
The combination of both companies' technologies will help government agencies and emergency responders to react to incidents faster and more efficiently. The Dronebox system is currently being tested on a number of use cases by government authorities around the region.
One sees the solution being put into operation by a police service, whereby a reconnaissance drone is deployed in the event of a traffic accident so that officers can quickly assess the level of response required. Another sees the solution put into use by fire departments, helping teams support search and rescue operations as well as assess fire-related damage to high-rise buildings.