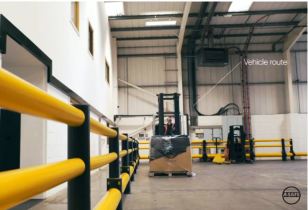 There is no shortage of information about what health and safety legislation requires of employers in the manufacturing and warehouse sectors
Equally, the financial, operational and human cost of accidents makes it all too clear why workplace safety is so important. But where do you go to find comprehensive information about how to deliver the right level of protection in your workplace? PAS 13 offers the solution.
Every day, production logistics managers, warehouse managers and health and safety managers, must balance operational efficiency with ensuring the safety of workers, assets and infrastructure within their facilities. Yet as developments – such as shorter lead times, lean production methods and the growth of e-commerce – increase pedestrian and vehicle traffic on shop floors and in warehouses, the challenge of managing traffic and keeping people safe becomes greater.
Health and safety legislation is unequivocal in its requirement that wherever pedestrians and vehicles share a route in the workplace, there should be segregation between them. Unfortunately, the legislation is less clear about what effective segregation should look like – or how it can be implemented in busy work environments where traffic movements are complex.
Many unanswered questions
The most popular and effective way of separating pedestrians and vehicle traffic is through the installation of workplace safety barriers. When they are fit for purpose and implemented effectively, they can define walkways and vehicle routes, while also providing cost-effective protection for people, critical infrastructure and assets. But how do you know if the barriers you choose offer the right levels of protection? And how do you implement barriers while ensuring both operational efficiency and employee safety?
A global benchmark for workplace safety
PAS 13 was created to answer both of these questions. Developed over two years by the British Standards Institution (BSI) – in partnership with the health and safety executive, leading brands such as Jaguar Land Rover, Mars, Nestlé, and DHL as well as leading global safety barrier manufacturers including A-SAFE – it is the world's definitive code of practice specifically relating to the effective testing and implementation of industrial safety barriers in the workplace.
So influential has PAS 13 been since its introduction in 2017, it has been translated into multiple languages and has since become the global benchmark for ensuring that workplace barriers are fit for purpose.
Standards provide peace of mind
The importance of standards should not be underestimated. Before PAS 13, there was no way of knowing for sure whether workplace safety barriers were tested using realistic scenarios. Barrier manufacturers could claim in their marketing literature that their products could withstand so-many-thousand joules of impact force, but they could base these figures on flawed test scenarios using shallow impact angles or test rigs that in no way reflect the characteristics of a real forklift truck or other workplace vehicle.
This is important because shallow impact angles substantially reduce the impact force that a barrier must withstand, as more of the energy is lost through deflection. Likewise, using test vehicles with minimal ground clearance increases the likelihood that a low-level barrier will withstand an impact rather than simply allow a vehicle to drive over the top of it.
Putting safety barriers to the test
PAS 13 solves the problem of inconsistency by defining a detailed framework for testing the performance of industrial safety barriers. It includes comprehensive standard specifications for test vehicles and pendulums, points and angles of impact, as well as methods for recording the results. It also advocates the use of respected impartial third-party test organisations to both verify that tests conform to the criteria set out in the specification and that test outcomes have been recorded accurately.
Due diligence
"At A-SAFE we test all of our barrier products according to PAS 13 standards," says James Smith, managing director of A-SAFE. "Furthermore, we use the world-class specialist testing company TÜV Nord to independently certify the results." However, it is alarming that even today, not all safety barrier manufacturers test to PAS 13 specifications or use independent test organisations to certify the performance of their products. Therefore, it is always a good idea to ask any potential barrier supplier how they test their products before you make a purchasing decision.
Improved safety, optimised traffic management
A second highly useful element of PAS 13 is the guidance it provides on safely and effectively managing vehicle and pedestrian traffic in the industrial workplace. By detailing, for example, where safety barriers should be installed or the optimum positioning of pedestrian gates and vehicle routes, it helps managers of manufacturing and warehouse facilities to reduce the risk of workplace accidents without compromising operational efficiency.
Multiple benefits
PAS 13 is a game-changer for everyone: the barrier industry itself, the customers it serves and the industrial workers whose safety depends on workplace protection. Barrier manufacturers benefit because rigorous test standards help them to make their products better and more effective; the managers and decision-makers responsible for safety in factories and warehouses benefit because they have best-practice guidance on implementing safety barriers in the workplace, as well as the peace of mind that comes with knowing that PAS 13 certified safety barriers will always be fit for purpose; and workers benefit from a safe, efficient working environment.