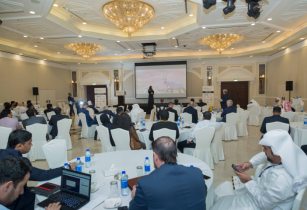 During the second day of the fifth edition of the Dubai Health, Safety & Environment Forum 2019, speakers reiterated across different sessions, the significance of investing in employees
According to multiple speakers, investing in the employees' safety and well being is the road to a better business.
In the first presentation of the day, Joyveer Dutt, regional manager QHSE, Al Futtaim Engineering stressed on the significance of understanding that gains should not only be in monetary terms, but also in what he explained as the three p's- profit, people and planet. "Human capital is the key; no organisation can run without humans. Even in Industrial Revolution 4. It is absolutely necessary," he told the audience.
Taking the same road was Nancy Nouameih, vice-president Quality & Safety, Abela & Co. who said that the company has taken a human-centric approach – saying, "Give your employees, colleagues and coworkers a reason to believe in: you, the team, their contribution counts." She added, "As safety practitioners and leaders it is our job to remove barriers to effective work; to do that requires a shift in mindset to incorporate more into our safety programmes and policies."
In his presentation, "Make trust your objective," Andrew Barker, a culture change and behavioural safety leader, added that small steps can help. He explained to the audience that a quality conversation is significant. "It is okay not to be okay," he said.
Karim A. Pachiyannakis, corporate HHSE & quality manager, Al Mansoori Specialised Engineering, gave examples of how lack of safety could be a hazard for the employees. He showed a video about how loading accidents do not only affect the loss of materials, but most importantly the loss of lives of what could be multiple people. He explained how the consequences of poor loading could lead to endangerment to life, legal repercussions, environmental damage, lost production, loss of company reputation and of course damaged equipment.
Presentations tackled other topics such as the impact of digital transformation in the workplace, and how to ensure health and safety training through innovation.
"Immersive technologies are widely applied across sectors," said Dr Sana Farid, co-president, VRAR Association MENA. She added further that given how society is moving towards e-learning and online learning, it is also important to ensure that safety training is taking place online. "Virtual reality and augmented reality, they are affordable and convenient and have much more impact compared to the traditional model," she said.
Other discussions across the second day included the role of a framework that is prepared to ensure a climate friendly solution for work environments. Dr Maisoon Ali Alshaali, head of Environmental Section, Ministry of Health & Prevention said in a presentation that the framework wants to assure the expansion of health surveillance; and enhance data protocol related to climate factors. The framework will focus on four points: governance, policy and engagement for health protection from climate change; climate resilience; enhancement management and mobilising public support for health and climate change.
The second day also included a presentation on understanding work stress and how to handle it. Participants were introduced to different concepts on the matter to be able to understand how to take certain steps and ensure their own well being.