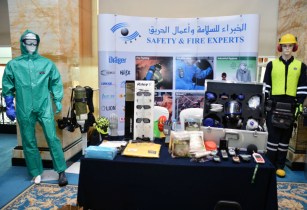 The highly acclaimed Kuwait Health, Safety & Environment Forum returns to Kuwait from 2-4 February 2020, with the addition of some exciting new features
Taking place at the JW Marriott Hotel Kuwait City, the Forum will once again bring together health and safety professionals, government regulators, policy makers and solutions providers to explore topical health, safety and environment issues.
Held under the patronage of the Ministry of Health, Kuwait, and in association with the Kuwait National Guard and Kuwait Fire Services, the Forum builds on the success of the highly acclaimed inaugural event held in September 2018. It will provide a platform for the sharing of insights, expertise and best practice on critical issues across the spectrum of health and prevention, safety and security, environment, risk management and technology. A new addition this year will be a one-day workshop on Hospital Health & Safety Management System, presented by the Ministry of Health.
Despite rapid advances in the health and safety sector, Kuwait faces a range of occupational health challenges such as reducing environmental hazards, improving the effectiveness of health policies, addressing communication issues and promoting healthy lifestyles and behaviours that will encourage a safer work environment and advance worker wellbeing. As Prof. Mohamed Kamel, Ministry of Health, Kuwait commented at last year's event, "You cannot be a safe worker if you are not a healthy worker."
There is also a big push on sustainable healthcare, tying in with the unified Gulf Health Strategy and the UN Sustainable Development Goals (SDGs), to raise standards of health and wellbeing throughout the country.
This year's event will have a renewed focus on health and prevention, with the addition of the Ministry of Health one-day workshop on Hospital Occupational Health and Safety Management System on 2 February. Aimed at hospital health care staff, senior staff of public health, quality and infection control departments and all those interested in the field of occupational and environmental risk assessment, it will orient trainees about the type of occupational hazards they might encounter in hospitals and empower them to establish a health and safety management system. It will additionally enable those attending to obtain CME points to maintain medical licenses.
"Regular occupational health training is urgently required to spread the concepts and importance of both a culture of safety and decent work," said Dr Ahmed Al-Shatti, Director, Occupational Health Department at the Ministry of Health, Kuwait, who also stressed the importance of international, regional and local exchange of expertise.
The Forum itself on 3-4 February will feature a combination of presentations, case studies and panel discussions, through which industry experts will address subjects such as health promotion; sustainable healthcare as a way forward to achieve the unified Gulf Health Strategy; improving competency and safety in high rise construction sites; protecting workers with 3D modelling; driving safety; leadership and safety culture; mitigating risks in hostile environments; IoT for monitoring potential workplace hazards; the effects of greenhouse gases on health and environment; and preventing environmental contamination by hydrocarbons.
The line-up of eminent speakers includes Dr Ahmed Al Shatti, Director, Occupational Health Department, Ministry of Health, Kuwait; Nasser Al Buhairi, Emergency Response Co-ordinator, Kuwait Oil Company; Dr Ghaida Mubarak Al-Shoraian, Senior General Practitioner, Kuwait National Petroleum Company; Qusai Al Shatti, Acting Director-General, Central Agency for Information Technology (CAIT); Dr Muhammad Alamgir, HSE Manager, Petrofac, Kuwait; Dr Ahmed Haji, Senior Doctor, Petrochemical Industries Company KSC; Shaikhah Alfajjam, Head, Shuaiba Medical Center; and Jason Woods, Middle East & India Representative for the International Powered Access Federation (IPAF).
The Forum will include an exhibition showcasing the latest technologies, products and services and will provide plentiful opportunities for networking and building new business relationships.
Soumen Chakraborthy, event producer, commented, "Kuwait is hard at work to achieve the third of the 17th UN 2030 Agenda Sustainable Development Goals (SDGs), namely "ensuring healthy lives and promoting the well-being for all at all ages is essential to sustainable development". There is a need to significantly strengthen the workforce by providing appropriate training in issues related to occupational health, safety and environment.
"The Kuwait HSE Forum 2020, with the theme of "Prevent, Prepare, Protect", is all set to deliver. Visionary speakers from KNPC, KIPIC, Petrofac and more will present the latest case studies and share best practices. This will also be an avenue for safety professionals to embrace the future and help define what new technology (AI & IoT, Data) can bring to their professions. Considering the huge emphasis on having a clean and green environment, the two-day gathering will have an exclusive session on some of the key areas of concern in this space. And this year we are providing enhanced professional development opportunities with the addition of the Ministry of Health workshop on 2 February."