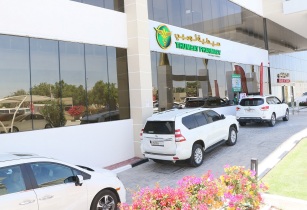 UAE's Thumbay University Hospital has launched a 24-hour drive-through pharmacy service at the hospital premises to protect the health and well-being of employees

Dr Mohammad Faisal, the chief operating officer of Thumbay University Hospital, said, "By launching drive-through service, we intend to minimise risks for our staff as well as patients and customers, through infection prevention and social distancing measures. This also ensures round-the-clock availability of medicines and other pharmacy essentials."
The hospital has an automated robotic pharmacy for the preparation and dispensing of medicines. This smart pharmacy, which is part of the Thumbay Pharmacy network, ensures zero dispensing errors, and significantly reduces waiting times.
The pharmacy is equipped with a robotic and pneumatic tube system, designed for high-density storage of up to 42,000 units. It is equipped with medication safety bar-code scanning, ensuring that the medications and strengths are correct during both the carousel stocking and dispensing process.
Following the social distancing and hygiene regulations mandated by the UAE authorities and WHO due to the COVID-19 pandemic, the hospital stated that this pharmacy would also help improve the convenience and safety of the customers.
Customers can drive in and place their orders or submit their prescriptions and collect the medicines without having to physically enter the pharmacy and maintain the stipulated social distance with the pharmacy personnel handling their request.
The hospital further added that direction signage have been installed at the hospital entrance and other relevant places to ensure that people do not have any difficulty accessing the drive-through service.